Head of the Institutions
Dr. Indira. S,
M.Sc. (N), Ph.D., MBA(HA) .
Principal/ TNAI Secretary of AP Branch,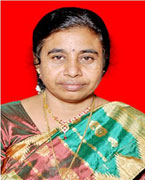 Experience
Clinical - 15 years
Teaching - 19 years
Administration - from 1999 onwards
Awards
Jewel of India - 2004
National Mahila Rattan Award - 2005
Best Educationalist Award – 2009
Golden Personality – 2011
Bharath Excellence – 2011
Bharat Mahila Award – 2012
Adhunik Prasati Award – 2012
TNAI Membership Enrolled Award -2012
Indian Gold star – 2013
Global Excellence -2013
Life Time Achievement-2015

Publications :78
Presentations :20

Research Guide : More than 700

Editor-in-Chief : Narayana Nursing Journal

Member in Board of Studies :Dr. N.T.R. University of Health Sciences, Vijayawada, Andhra Pradesh. Digital Library Membership TEXILA UNIVERSITY, CANADA
Membership
TNAI - Life membership, National
Sigma-Theta-Tau, Internationa
Message
Nursing is a Caring Profession. Nursing Emerges from a Vocation to a different discipline by its nature and body of knowledge. Nursing cares humankind by its evidence based trio domains named as Cognitive, affective and Psychomotor (Knowledge, Skill and Practice). The first woman is the first nurse of this world. Yes, the scope of nursing is everlasting and universe.
I wish you all the best for selecting the noble profession. Narayana Nursing Institutions provide you the best platform to develop you as a Nurse Clinician, Practitioner, Administrator, Researcher and a Leader by its own way of structured teaching, practicing and evaluating your progress regularly. Narayana Nursing Institutions created an environment to participate in caring profession and preparing you for various dimensions to cope with the Noble and Loving profession of this Universe.